We're heralding the 250th Anniversary in a special way. To support your communications efforts during the yearlong Rutgers 250 celebration, we are providing information, graphic elements, templates, and other materials.
Facts to Know and Share
When referring to the anniversary in headlines and running text, it should always read "Rutgers 250." It should not be shortened to "RU250" or any other abbreviation.
The Rutgers 250 Fact Sheet [PDF] provides a brief summary of the institution's history. You may use the information in your communication materials, include it as a download on your websites, or print it out for distribution.
RUTGERS 250 MESSAGE POINTS
​When crafting your 250-related communications, consider incorporating any of the following key messages.
Rutgers 250 is a yearlong celebration of our university's rich history.
Rutgers turns 250 on November 10, 2016. We're the 8th oldest college in the nation—one of only nine colonial colleges established before the American Revolution.
In recognition of the original Charter Day of November 10, 1766, the anniversary celebration will formally commence on Charter Day 2015 and conclude around Charter Day 2016 when Rutgers turns 250.
Throughout our history, Rutgers University has been a catalyst for positive change and a source of pride for the people of New Jersey and beyond.
A milestone anniversary is an opportunity to stand out among our peers, reaffirm our core values, and unite the community.
Our anniversary is an opportunity to celebrate Rutgers' deep 250-year connection to New Jersey and highlight our importance to the state as a driver of economic development, cultural engagement, and social change.
Since our founding by royal charter in 1766, Rutgers has gone from a small, private, all-male colonial college to one of the largest, most diverse, public research universities in America, with a presence throughout New Jersey.
To put our reach and impact into perspective, Rutgers University has awarded more than half a million degrees (551,132 degrees, to be exact).
The 250th anniversary isn't just about where we've been; it's also about where we're going.
Rutgers welcomes everyone's participation in this unique celebration, including:
- Our more than 67,000 current students.
- Our more than 22,000 faculty and staff.
- Our more than 470,000 living alumni.
Social Media Images
We encourage you to switch your social media images on Charter Day, November 10, 2015, to kickoff the anniversary celebration. We have prepared Rutgers 250 profile and cover images for Facebook and Twitter. Some cover images include our anniversary hashtag, #Rutgers250. Download social media images from the Visual Identity System website (Net ID is required).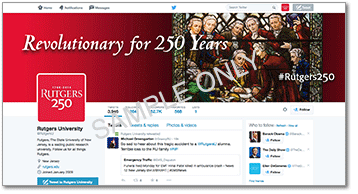 Graphics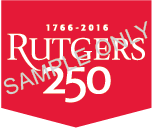 We have prepared the Rutgers 250 graphic, R250 spirit graphic, web buttons, and tagline in several formats so you may use them for commercial printing, desktop publishing, or websites. Rutgers 250 branded letterhead and PowerPoint slide templates are available to use in place of your usual unit branding during the anniversary year. Learn more about these elements on the Visual Identity System website and download the elements from the identity website (Net ID is required).

Exhibit Kit
Showcase Rutgers 250 at your next anniversary-themed event with our exhibit display materials, including table covers, banners, and podium signs. You may borrow these items to be used alone or in conjunction with your own department's displays. Offices that frequently use display materials may want to consider purchasing a dedicated set for their own use. To learn more or to request materials, visit the Exhibit Kit website.
Merchandise
Want a memorable Rutgers 250 giveaway to hand out at special events? The Office of Trademark Licensing can provide advice and help connect you with licensed vendors. The office can also direct you to vendors who have already produced select Rutgers 250 items that you can pay to have reproduced. Send an email to trademark@ucm.rutgers.edu.
Great Things to Know about Rutgers Brochure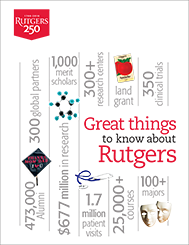 The Great Things to Know about Rutgers brochure provides an engaging, at-a-glance view of our impressive university, featuring facts, figures, and the accomplishments of a number of standout Rutgers people and programs. The brochure is available in several versions including PDF, Ebook, and in print.