Revolutionary for 250 Years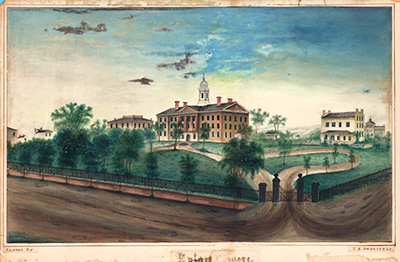 Rutgers, The State University of New Jersey, is the nation's eighth oldest institution of higher learning—one of only nine colonial colleges established before the American Revolution—and has a centuries-old tradition of rising to the challenges of each new generation.
Our Secular Heritage
The university was founded in 1766 as Queen's College by New Jersey's last Colonial governor William Franklin, the son of Benjamin Franklin. Reportedly, the charter signing took place at The Proprietary House in Perth Amboy, New Jersey. The all-male college in New Brunswick, once affiliated with the Dutch Reformed Church, was renamed Rutgers College in 1825 in honor of trustee and Revolutionary War veteran Colonel Henry Rutgers.
A Revolution Spurs New Role
With the establishment of the nation's land-grant colleges in response to the Industrial Revolution, Rutgers prevailed over Princeton in 1864 to become New Jersey's land-grant institution, charged with offering educational access to a wider range of students in order to cultivate a new workforce and the next generation of thought-leaders. In 1945 and 1956, state legislative acts designated Rutgers as The State University of New Jersey, a public institution. The University of Newark (now Rutgers University–Newark) joined Rutgers in 1946, followed by the College of South Jersey (now Rutgers University–Camden) in 1950, which gave Rutgers a statewide presence. In 1989, Rutgers University–New Brunswick was invited to join the Association of American Universities, making Rutgers' flagship one of the top 62 research universities in North America. Rutgers' standing as a leading university reached new heights in 2013. With the integration of Rutgers University with most of the University of Medicine and Dentistry of New Jersey, Rutgers Biomedical and Health Sciences was established; dramatically expanding Rutgers' mission to include academic medicine and wide-ranging patient care. In the same year, Rutgers University–New Brunswick joined the Committee on Institutional Cooperation, a consortium of 15 leading universities that includes all members of the Big Ten® Conference and the University of Chicago.
Meeting Today's Challenges, Seizing new Opportunities
Today, nearly 250 years after its founding, Rutgers is one of the most highly regarded universities in the nation, with more than 67,000 students, who are diverse in every way, from 115 countries; more than 470,000 alumni worldwide; and more than 22,000 faculty and staff in New Brunswick, Newark, and Camden and throughout New Jersey. Rutgers, the State University of New Jersey, contributes to the economic growth and vitality of the Garden State. With $550 million in annual sponsored research grants and $700 million annually in R&D expenditures, our research provides solutions to our greatest challenges. Rutgers is New Jersey's premier, university-based health care provider, with some 1.7 million annual patient visits through our faculty practices, centers, clinics, and institutes. Rutgers' impact has been and will continue to be significant. Explore our rich heritage on the university's new timeline, Rutgers Through the Years.
Over this next year, through Rutgers 250, we look forward to celebrating our past, present, and future.
For More Information