During Rutgers yearlong commemoration of its 250th Anniversary, many departments and units have hosted an array of symposia, conferences, and courses designed to provoke inquiry and a deeper understanding of our enduring, and at times controversial, heritage. View additional programs in our full events listing.
---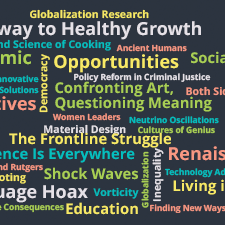 A Day of Revolutionary Thinking
A Day of Revolutionary Thinking, on November 10, 2016, is a universitywide showcase of alumni expertise and knowledge. Accomplished graduates—designated as Rutgers 250 Fellows—return to campus to present new ideas, discoveries, and practices that are shaping the world. Among the topics: Fighting Ebola on the Frontlines, From Black Holes to Dark Energy, Rock 'n' Roll and Rutgers, and The Magic and Science of Cooking.
Presentations are open to the university community and the public but seating is limited, so register today for the presentations you want to see.
---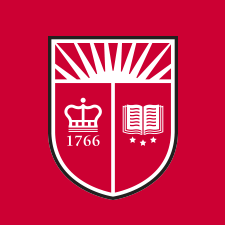 250th Anniversary Presidential Symposium on Higher Education
The 250th Anniversary Presidential Symposium on Higher Education, a series of three symposia, focused broadly on the changing roles of the research university in the 21st century and the challenges and opportunities presented by these changes. These events were designed to encourage deep reflection and lively discussion about the future of our shared endeavor.
Inaugural Symposium Held: On April 7, Rutgers University welcomed distinguished scholars and academic leaders for the inaugural event of the 250th Anniversary Presidential Symposium on Higher Education, a series of three symposia. Held at Rutgers Business School–Newark and New Brunswick in Piscataway, the symposium was followed by a reception.

Keynote speakers included Rebecca Blank, chancellor of the University of Wisconsin–Madison and former Acting United States Secretary of Commerce, who spoke on A 19th Century Model in the 21st Century. ​Respondents included: Jan Ellen Lewis, moderator (History, Dean of Faculty, Faculty of Arts and Sciences–Newark); Ann Brooks Gould (Chair, Rutgers University Senate; Department of Plant Biology and Pathology, School of Environmental and Biological Sciences), Benjamin Justice (Chair, Department of Educational Theory, Policy, and Administration, Graduate School of Education)
The day's second session featured a keynote on What Does the History of the Research University Tell Us about Its Future? by William Bowen, president emeritus of the Andrew W. Mellon Foundation, former president of Princeton University, and author of more than 20 books, most recently a coauthor of Locus of Authority: The Evolution of Faculty Roles in the Governance of Higher Education (Princeton University Press, 2015). Respondents included: Linda Stamato, moderator (Center for Negotiation and Conflict Resolution; Edward J. Bloustein School of Planning and Public Policy); Ben Sifuentes-Jàuregui (Vice Chancellor, Undergraduate Academic Affairs, Rutgers University–New Brunswick; American Studies, School of Arts and Sciences); and Lily Young (Provost, Rutgers University–New Brunswick; Environmental Microbiology, School of Environmental and Biological Sciences).
Transformational Science: The second symposium in the series held on September 28, 2016, focused on Transformational Science. During the event participants examined the changing roles of the research university and the challenges and opportunities presented by these changes. Keynote speakers were the Honorable Rush D. Holt, chief executive officer of the American Association for the Advancement of Science and former U.S. Representative for New Jersey's 12th congressional district, and Eric Green, director of the National Human Genome Research Institute at the National Institutes of Health. The event was held on Wednesday, September 28, from 1:00–5:00 p.m. at the Daniel I. Kessler Teaching Laboratories on Rutgers' Busch Campus in Piscataway, NJ.
Why the Humanities Matter: The final symposium in the series, held on October 26, 2016, examined the significance of the humanities. Keynote speakers were Kwame Anthony Appiah, professor of philosophy and law at New York University and author of The Ethicist column in the New York Times; and Pauline Yu, president of the American Council of Learned Societies and former dean of humanities at UCLA. Each keynote was followed by responses from panels of Rutgers faculty members. The symposium was held from 1:00 to 5:30 p.m. in Hageman Hall at the New Brunswick Theological Seminary, located at 35 Seminary Place in New Brunswick.
---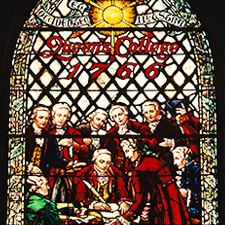 Online Course: History of Rutgers University
Open to current Rutgers students (all locations) and alumni.
Fall 2016 Semester; Alumni registration ended September 5.
The course runs September 2016–December 2016.
This fall, both students and alumni are invited to take the online course "History of Rutgers University," taught by Rutgers historians Paul Clemens, author of Rutgers since 1945 (Rutgers University Press, 2015), and Rudolph Bell. Participants, working in small, virtual groups, will explore major themes throughout Rutgers' 250-year history from its beginnings in 1766 as a small college for prospective ministers to its current place as a leading research university. Through interviews, visual presentations, and selected readings, participants will examine a wide range of topics, such as: 19th-century students from Japan; Paul Robeson then and later; the old and new Rutgers tomato; World War II veterans and the G.I. Bill; Selman Waksman's contested Nobel Prize; the firing of alleged communist Moses Finley; early residence life at Livingston College; 1969 Black Organization of Students takeover of Newark's Conklin Hall; LEAP Academy in Camden; art, music, dance, and theater; underwater volcanoes; the establishment of Rutgers Biomedical and Health Sciences; and, of course, entry into the Big Ten®.
For more information or to register: Alumni can sign up for the course through the Rutgers University Alumni Association. Students can register using the Web Registration System by selecting the fall 2016 semester, course code 01:512:285, section 90. The course will meet weekly online September 6 to December 14, 2016.
---
Byrne Seminars
Seminars for current first-year students at Rutgers University–New Brunswick
Fall 2016-Spring 2017 Semesters
Made possible by the generous support of Dorothy and John J. "Jack" Byrne RC'54, Byrne Seminars introduce first-year students to faculty research. In honor of Rutgers' 250th Anniversary, this year's Byrne Seminars take up the theme "revolutionary research and academic innovation," and are offered in a wide range of disciplines, such as the social sciences, humanities, and the sciences. These 1-credit seminars are limited to 20 students each and are graded pass/no credit.
For more information: Byrne Seminars: Download the catalog booklet for Fall 2016–Spring 2017 seminars (PDF) or browse upcoming seminars online. Students may register for these seminars using the Web Registration System. To get the list and schedule for upcoming Byrne Seminars, enter subject code "090" and course number "101." To mark Rutgers' 250 Anniversary, the School of Arts and Sciences began offering special Rutgers 250-themed Byrne Seminars in the Fall 2015 semester.