Celebrate Rutgers 250th Anniversary by getting lost—in a special corn maze. Three New Jersey farms are commemorating the university's anniversary year and the special relationship Rutgers has with the state's growers through its role as a land-grant institution.
The three farms, Etsch Farm in Monroe, Happy Day Farm in Manalapan, and Stony Hill Farms in Chester, all feature designs that incorporate Rutgers 250 logos. They also include fun activities and games with a Rutgers theme.
---
"Corn Central" and Crossword Puzzle
Etsch Farm
556 Buckelew Avenue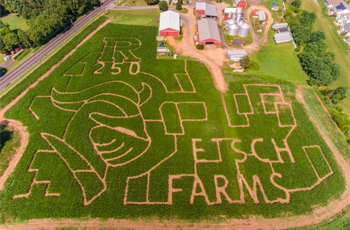 Monroe, N.J.
732-794-6785
Maze Hours:
September 24 through October 30
Saturdays and Sundays 12 p.m. to 6 p.m.
Learn facts about Rutgers as you meander this 8-acre maze. For an extra challenge, play a crossword puzzle game with clues hidden throughout the maze. Hopelessly lost? Call the "Corn Central" lifeline for rescue.
Other fun activities include a petting zoo, pumpkin picking, and rides on the corn train or hay truck. The Bakery Barn features fresh apple-cider donuts and much more.
---
Question Master AnD Overhead Photos
Happy Day Farm
97 Daum Road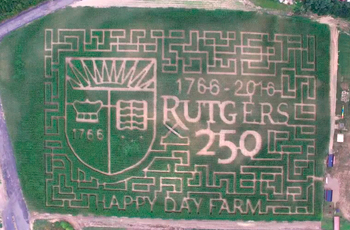 Manalapan, N.J.
732-977-3607
Maze Hours:
Saturday and Sunday in September, 11 a.m. to 5 p.m.
Friday, Saturday, and Sunday in October, 11 a.m. to 11 p.m.
Wanderers in this 13-acre maze can receive texts from a "question master"—right answers earn hints about which way to turn. They can also locate and scan a special code in the maze to trigger a camera to snap an overhead photo.
Happy Day Farms also has live entertainment, caricatures, tattoos, and fresh baked goods.
October 29 is a special A Maze-ing Day on the Farm for Rutgers Alumni.
---
Bridges and Decoder Glasses
Stony Hill Farms
15 North Road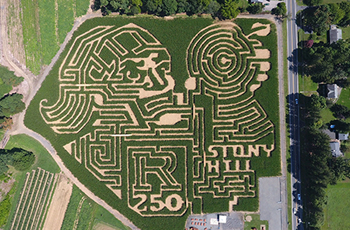 Chester, N.J.
(908) 879-2908
Maze Hours:
Open daily through November 12, 10 a.m. to 6 p.m.
Extended Saturday hours in October, 10 a.m. to 8 p.m.
Grab a game sheet and scamper through a 10-acre maze that includes five bridges. Find facts about Rutgers and its New Jersey Agricultural Experiment Station then jot down the answers to solve a puzzle. If you're hopelessly lost, don your decoder glasses to reveal a hidden map on the back of the sheet.
Little ones can also enjoy a smaller corn maze, a life-size boardgame where you are a game piece, a tile maze, a rope maze, hay rides, and trike rides. And there's apple and pumpkin picking, of course.
---
HOW THEY DID IT
It takes a lot of planning and work to create a corn maze. Take a peek at the process.