Rutgers' 250th Birthday • November 10, 2016
Our yearlong 250th Anniversary commemoration that featured hundreds of events culminated with the celebration of Rutgers' 250th Birthday on November 10, 2016. To mark the occasion, the Rutgers community and friends joined in engaging lectures by our many distinguished alumni, watched fireworks displays, and enjoyed birthday cupcakes and more activities at our locations in Camden, Newark, New Brunswick, and Piscataway.
---
A Day of Revolutionary Thinking

On November 10, 2016, the university hosted esteemed alumni from dozens of fields—designated as our Rutgers 250 Fellows—for A Day of Revolutionary Thinking. Extraordinary individuals from diverse fields shared with guests, faculty, staff, and students exciting ideas, discoveries, and practices that are shaping our world. Presentations were held throughout the day at locations in Camden, Newark, New Brunswick, and Piscataway. All events were free.
See the full list of presenters. | See photo highlights of the day.
---
a Universitywide Celebration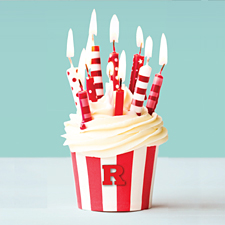 At Rutgers University–Camden, many joined Chancellor Phoebe Haddon for birthday cake and refreshments in the Camden Campus Center. The Rutgers community joined in wishing the university a happy birthday, while enjoying cupcakes at dining halls and student centers at Rutgers University–​New Brunswick; at several locations at Rutgers University–Newark; and at Rutgers Biomedical and Health Sciences' locations in Piscataway, New Brunswick, Newark, Scotch Plains, and Stratford.
Students gathered from 4 to 6:10 p.m. for the Rutgers 250 Birthday Celebration at Deiner Park in New Brunswick. Hosted by the Division of Student Affairs, guests enjoyed music, food, inflatables, giveaways, and fireworks. Students received commemorative T-shirts.
At 5 p.m., the Rutgers University–Newark community joined in the Student Birthday Celebration at the Golden Dome Athletic Center and tennis courts in Newark. Hosted by the Chancellor's Office, the festivities featured music, snacks, games, and giveaways.
See photo highlights of the day.
---
Ceremony at Old Queens, Bells Ring In our Host Communities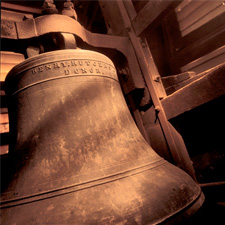 At Old Queens, Rutgers' original campus, the Old Queens bell—and other bells in our host communities—tolled for 250 seconds, beginning at 2:50 p.m., to mark the milestone birthday. Rutgers ROTC members ceremoniously raised a commemorative American flag that flew over the U.S. Capitol and was given to Rutgers by Congressman Rodney Frelinghuysen. A Rutgers 250 All-Star Variety Dogwood tree was planted on the Old Queens lawn. See photo highlights of the ceremony.
Community bells in Rutgers' host communities rang at these locations:
Camden: Cathedral of the Immaculate Conception
Newark: St. Lucy's Church and The National Shrine of St. Gerard
New Brunswick: Christ Church Episcopal, First Reformed Church, St. Peter the Apostle University and Community Parish, Second Reformed Church of New Brunswick, and Rutgers' Honors College at Rutgers University–New Brunswick.
Piscataway: Christ United Methodist Church, St. George Greek Orthodox Church, and Saint Moses and Anba Abraam Coptic Orthodox Church
---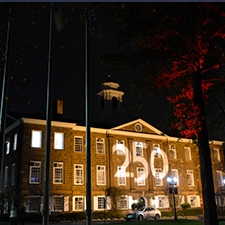 Beaming with Rutgers Pride
At sunset, local landmarks were awash in scarlet and illuminated, including the iconic Empire State Building in New York City, the Old Queens building at Rutgers' historic campus in New Brunswick, the Sonny Werblin Recreation Center in Piscataway, and the Gateway Pavilion in Camden. See photo highlights.
At 6 p.m., crowds gathered to watch fireworks displays set to an eclectic soundtrack at these locations:
Camden: Gateway and quad across from 330 Cooper Street
Newark: Golden Dome Athletic Center and tennis court in view of Bradley Hall; upper floors of Stanley Bergen Building
New Brunswick: Deiner Park; vantage points with a view of the skyline above the Raritan River; on the big screen at The Yard on College Avenue.
Related Link: "A Rutgers Celebration for the Ages" (Rutgers Today, 11/14/2016)

Watch a video of the simultaneous fireworks displays in Camden, Newark, and New Brunswick: