Chancellor-led Strategic Plans
A crucial next step in the strategic planning process was the creation of localized plans tied to the universitywide plan.
The university's four chancellors were charged to establish strategic plans for Rutgers University–Camden, Rutgers University–Newark, Rutgers University–New Brunswick, and Rutgers Biomedical and Health Sciences by the end of the 2013–14 academic year. In developing these plans, they leveraged the distinctive attributes of each campus and division within the larger framework provided by the university strategic plan.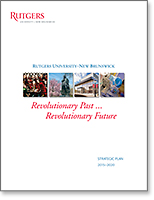 New Brunswick Strategic Plan:Revolutionary Past ... Revolutionary Future
"The Rutgers–New Brunswick community seeks to provide (and to be widely recognized for providing) both a research-rich academic environment, marked by faculty excellence and community engagement, and a meaningful and satisfying student experience facilitated by high-quality classroom instruction and academic and support services. It will be clear that we are on a path to becoming a public institution of choice for high-achieving students from New Jersey, from across the United States, and from around the world."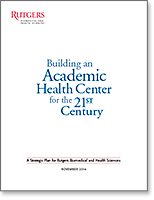 RBHS Strategic Plan:Building an Academic Health Center for the 21st Century
"RBHS aspires to be recognized as one of the best academic health centers in the United States, known for its education, research, clinical care, and commitment to improving access to health care and reducing health care disparities. This will be achieved through dedication to elevated standards of excellence and innovation, interprofessional collaboration and integration, and deep engagement with the community."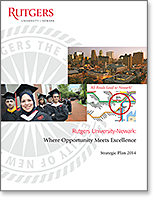 Newark Strategic Plan:
Where Opportunity Meets Excellence
"We want everyone to know and talk about Rutgers University–Newark as the place where excellence embraces diversity, where cutting edge scholarship and social impact positively collide, where opportunity is not bestowed on a select few, but deliberately cultivated for many, where those many graduate as the elite, as the leaders, professionals and citizens so needed for tomorrow."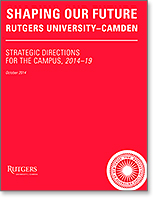 Camden Strategic Plan:
Shaping Our Future
"As a national leader among urban public research universities in research, teaching, and civic engagement both local and global in scope, aspiring to have a transformative impact on a diverse student body and on communities, Rutgers University–Camden seeks to grow while retaining our intimate and collaborative campus culture, which nurtures the aspirations of our students, faculty, staff, alumni, and fellow citizens."